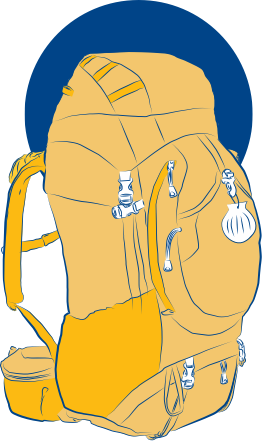 Backpack (indispensable for the pilgrimage)
Your backpack should be comfortable, light, and t the shape of your back well. It should have traps for the waist and chest and side pockets.
Do not pack too much into your backpack (the weight should not exceed 10% of your body weight)
Organising your backpack is important so that the weight is well distributed. The heavier items should be placed at the bottom, next to the lumbar region to avoid fatigue during the route.
First-aid kit
Moisturizing cream or Vaseline (to hydrate feet)
Aspirins
Bandages for blisters
Gauze pads and disinfectant
A hypodermic needle to drain blisters
Antifungal spray (athlete's foot)
Tips: Earplugs
(people may snore in the albergues)
Clothing
1 x Raincoat (winter)
1 x Sweater (winter)
3 x T-Shirt (summer)
3 x underwear/undergarments
2 x convertible pants/trouser (quick drying)
3 x pairs of socks (seamless)
1 x pair of ip- ops
1 x pair of hiking shoes/boots

Personal Hygiene
liquid soap
shower gel
toothbrush
tooth paste
comb/hair brush
sunscreen
deodorant
Food - Supplies
1 x Canteen
1 x Pack of cookies ( rst day).
Documents
Passport or Identication Card
Pilgrim Credentials
Debit Card
Cash (for 2 or 3 days).