Signs found on the Saint James trails
Two different types of signs may be found along the Portuguese Coastal Way to help guide pilgrims and other walkers. The first type refers to direction signs aimed at substituting the old yellow arrows. These types of markings were initially encouraged by the European federation of the Saint James Way, but their use has been widely applied to other situations. These are currently spread out throughout the region, often found on monuments that have been classifed as historical or within their protected areas, indicating routes and alternative trails which are not there to aid the pilgrim or valorise the Jacobean itinerary.
Other information may be included on the basic direction sign, on the top right hand corner. This may include albergue, access or detour or other important information. In the case of signs indicating access, these will be found where pilgrims arrive to indicate the way (camino), such as in train and bus stations, among other locations. As it is not always easy to nd the camino, there was a need to indicate the path leading to the Saint James way. The third type of signs is related to obstacles that may exist on the trail, either because the original way no longer exists, or the trail is temporarily closed off or due to existing conditions, it is considered unsafe to use.
Basic Direction Signs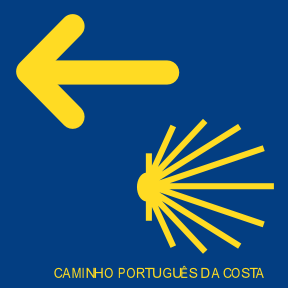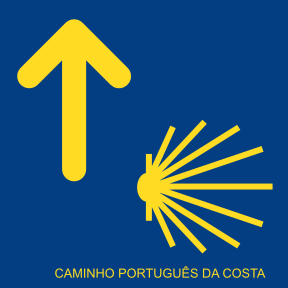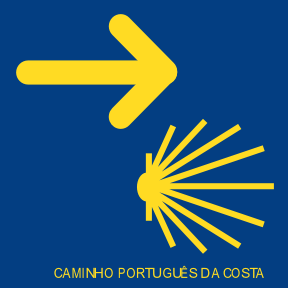 Variations / Albergue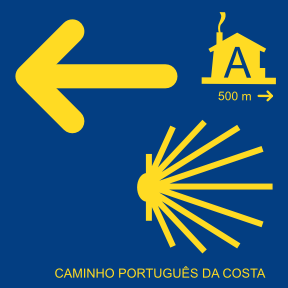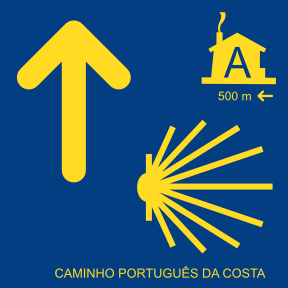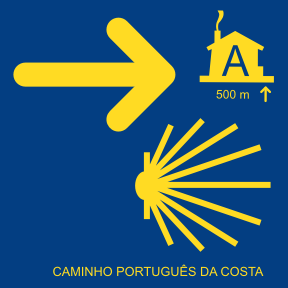 Variation / Access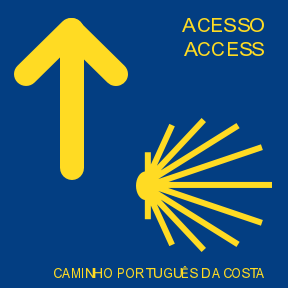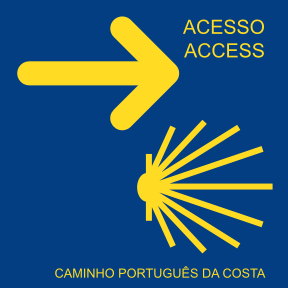 Variation / Detour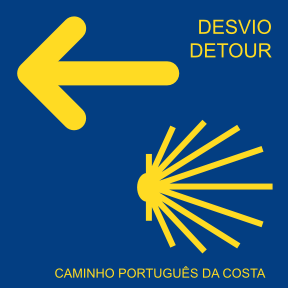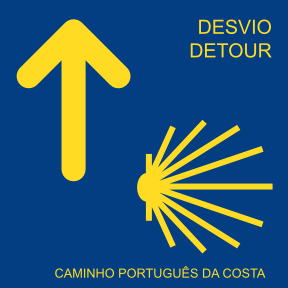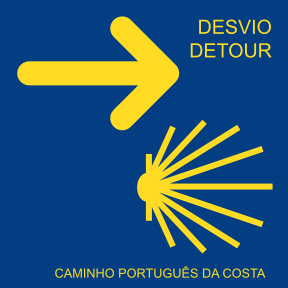 Signs providing information
There was a need to provide information signs at normal stopping points for pilgrims or else in locations where there is a change in characteristics such as the entry into an urban area.
These information panels may include different types of information such as providing a map of the trail with some basic information as well as emergency telephone numbers or other useful numbers. On the map, pilgrims may nd the location of pharmacies, first aid posts, lodgings, cultural heritage sites related to the camino, with a brief description.
Types of Signs
Pilgrims will travel across different areas along the extension of the Saint James Way, including both rural and urban spaces. Along the way, travellers may nd monuments or protected areas. Two types of signs were designed for the purpose: one, found in rural areas is a simple wood pole with a direction sign in phenolic resin, the other, the urban sign, indicates the location of monuments and protected areas, and is made in cor-ten steel.
These are both direction signs placed on a pole, wall or on the pavement along with any additional information.